JOSH FREEMAN
---
Previous Page | Gallery Entrance | Next Page
---
LINKS:
His Homepage [dead link]
EMAIL:
stormwatch@bigfoot.com
GROUND ZERO'S TITLE:
Thinner Thighs in Three Seconds
For any of you that may have voted, you have seen this logo on the Thanks for Voting™ page. His work, remiscent of the great works of Monty Python and Warner Brothers, grabbed our voters with its elegance yet subtlety. Notice the gentle lines... OK, we liked the squashed guy. And the shiny object. Sue us.
However, we do have one question. Who exactly is the guy under the weight? Jimmy Hoffa? Vince Foster? What are you hiding, Josh?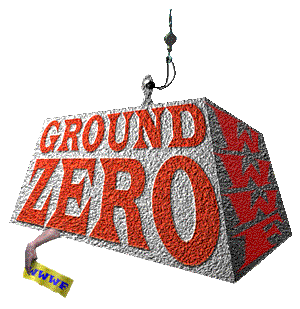 ---
Previous Page | Gallery Entrance | Next Page
---
Current Match | History | Suggestions | FAQ | Stats
Links | Awards | Commentators | Real Life
---
© 1999, WWWF Ground Zero